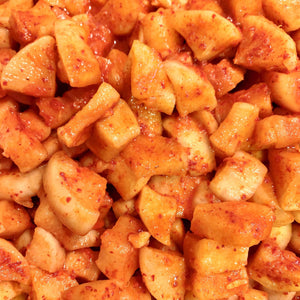 Lactofermented Raw Radish Kimchi Kkakdugi
***Available Now! If brews are ordered, they will be fulfilled in one sitting together when the Kimchi is ready***
Kimchi, Korea's national food, is one of our favorite fermented foods. It contains its own type of lactic acid bacteria Lactobacillus kimchii, as well as other probiotic bacteria that may benefit digestive health. Kimchi made from radish is high in vitamins and minerals, including vitamin K, riboflavin (vitamin B2) and iron!

Famed chef David Chang of Momofuku describes it best: 
"Microbes produce enzymes, enzymes develop amino acids, glutamic acid + aspartic acid = umami, umami = delicious."
How is Craft & Culture's Kimchi different?
Our kimchi is made in very small batches by hand, by the same folks who brew your favorite Kombuchas and Kefirs! 
It will be crunchy and have a distinct sweetness from the raw and active bacteria present in it's fermentation! Radish kimchi has a mineral-y and clean profile and is great as a palate cleanser!
Please note that Kimchi with external vinegar added is not considered fermented and lacks beneficial probiotic bacteria.
Rich in vitamins, minerals and amino acids
Packed with beneficial probiotic bacteria thats good for the gut
May strengthen the immune system
Reduce inflammation
Slow ageing
promote weight loss
Support Heart Health
Yummy Recipe(s) include:
Ingredients: Radish, gochugaru, onion, garlic, spring onion, sugar, fish sauce, salted shrimp, salt, glutinous rice flour, carrot, pear, apple
Size: 500g, cut into approximately 1.5 Inch pieces and packed in a sealed bag
Appearance:
As pictured. Will age and get more sour with time--this is normal and expected. Use sour aged kimchi for soups and stews
Storage:
Store chilled in the fridge. May be kept for up to 2 years. See package for best by date.
Delivery: 
Via Courier Service on our weekly delivery day
If Brews are ordered, they will be fulfilled together in one sitting.
---
We Also Recommend