News — New Product
Posted by Craft & Culture - Kombucha, Kefir & Probiotics Singapore Admin on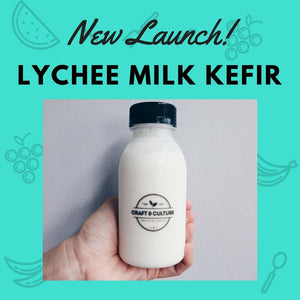 Think Lychee, think succulent, refreshing, sweet! We acquired a big batch of juicy lychees.  As the saying goes, "When you get lychees, you make lychee milk kefir!" - Zhiwei (that's me!) Therefore, we have launched a seasonal flavour - the refreshing Lychee Whole Milk Kefir. Lychee is a wonderful fruit with plenty of health benefits, including its ability to aid in weight loss, protect the skin, boost the immune system, prevent cancer, improve digestion, build strong bones, lower blood pressure, defend the body against viruses, improve circulation and optimize metabolic activities. Lychee is packed with vitamins, minerals and nutrients, including vit...
Posted by Craft & Culture - Kombucha, Kefir & Probiotics Singapore Admin on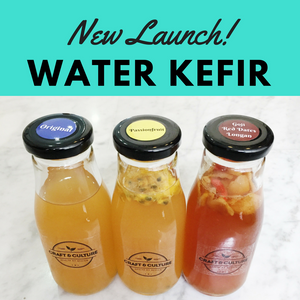 Water Kefir! *** Update: Wow! What a response to our pre-launch! We're sold out for the next few weeks and are suspending orders for the time being until we figure out how to scale up production so that the wait time is minimized for our customers. Will update shortly! *** We've been asked for a while now about whether we produce water kefir, and now we are proud to announce that WE DO! after 6 months of planning and flavour development, we narrowed down our range into a well-curated and tight selection of flavours! But,  What exactly is Water Kefir?...